Australia's only specialised pork newspaper
National direct mail circulation of Australian Pork Newspaper is about 2400. It is posted primarily to pork producers, pig industry researchers and key decision-makers in the pork industry.
Australian Pork Newspaper has one of the highest circulations of any publication within the industry and is published monthly.
An electronic flipbook is also emailed to over 800 subscribers each month and current and past editions of the publication can even be viewed and downloaded on this website.
There are many options if you are wishing to advertise in Australian Pork Newspaper.
Inserts may be placed in the newspaper from 55 cents each and can be mailed to single or multiple states throughout Australia.
Advertising rates can be negotiated for volume buys. For more information, feel free to contact our advertising sales representative on 07 3286 1833 or download the media kit.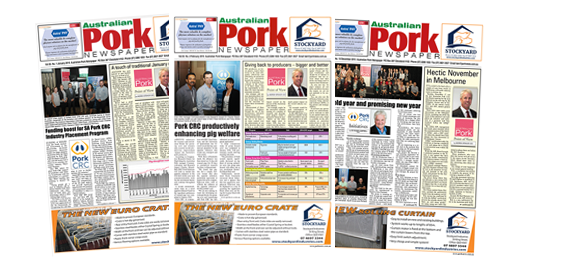 All prices plus GST. The casual rate for smaller or alternative size ads is $6.60 per column centimetre (one column is 3.38cm wide). That reduces to $4.30 for regular monthly advertisers and volume buys.
Cancellation of ad booking will incur a 50 percent fee.
Advertise your business card for four months in the Here's my Card section for only $192 mono or $274 colour.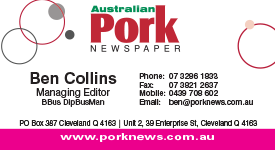 Edition
Copy
deadline
Print
Posted
Edition
Copy
deadline
Print
Posted
January
Jan 2
Jan 4
Jan 5
July
Jul 2
Jul 5
Jul 6
February
Jan 29
Feb 2
Feb 3
August
Jul 30
Aug 2
Aug 3
March
Mar 6
Mar 8
Mar 9
September
Sep 3
Sep 6
Sep 7
April
Apr 3
Apr 5
Apr 6
October
Oct 2
Oct 4
Oct 5
May
Apr 30
May 3
May 4
November
Oct 29
Nov 1
Nov 2
Jun
Jun 4
Jun 7
Jun 8
December
Nov 26
Nov 29
Nov 30